November 2019 / December 2019 / January 2020
---
Craig Thompson's First International Experience
January 30th, 2020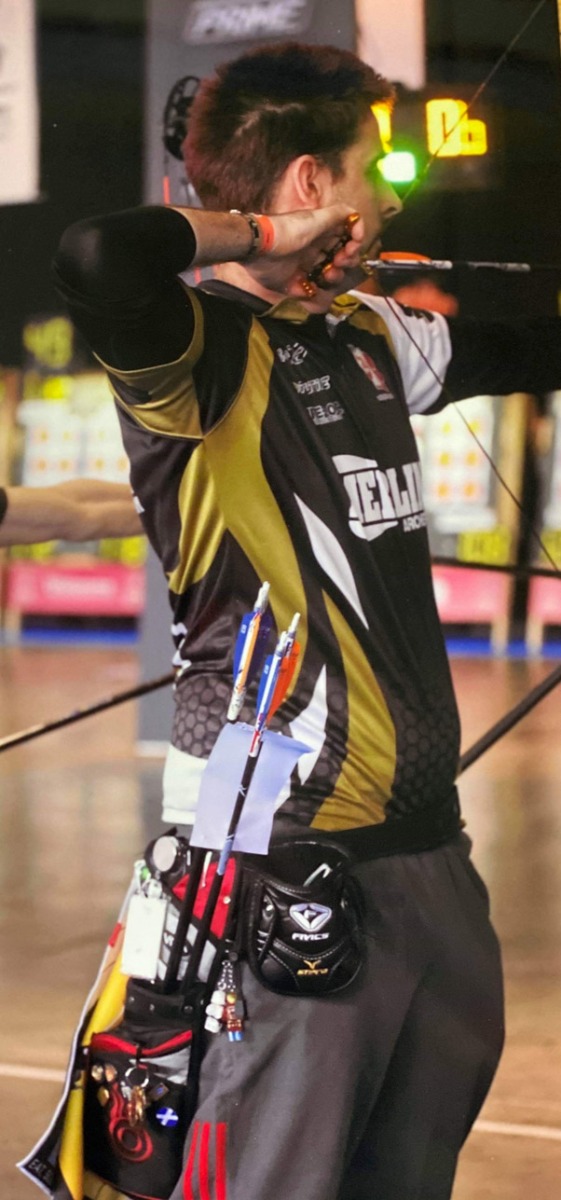 One of the great things about a sport like archery is that it can open up a whole host of opportunities to shoot at home in the UK, in Europe and Internationally in almost any discipline.
Recently, Merlin Ambassador Craig Thompson, took part in his first international at the Indoor World Archery Series' penultimate stage in Nimes, France. When he returned, he was kind enough to share some of thoughts on his first trip:
Nimes was amazing! The best experience I have ever had in a competition, it was very surreal being on the shooting line with people who I have watched videos of and actually admired. The people were lovely and so friendly, I felt like everyone was willing to help and offer advice. The best moment for me was having total control over my nerves which is something I have been working on, the best example was in the Second Chance Tournament on the Sunday, my second arrow went massively in to the 8 however I managed to stop, take a breath and then bang the next 4 arrows on to the X.
Having the Mybo guys there was brilliant; sitting and having a chat with Ben and the guys was very relaxed and helped me really believe that I was good enough to be there and I was so proud to represent the Merlin / Mybo brand. Meeting Simon Scott was brilliant as well; he was willing to have a chat and offer me some advice which helped a lot. I think that been part of the team was fantastic; the support I was receiving from home was brilliant and made me more confident.
This was my first international however it will not be my last. I am already planning on going to Kings of Archery in November and I will also be looking to go to Nimes 2021 and, provided I can afford it, Vegas 2021.
If this has inspired you to take a leap into international shooting, read on for Adam Ravenscroft, Mybo Pro-team member's top tips for travelling abroad:
Make sure you've got everything you need to shoot – I'm not talking about a whole second set up, but Allen keys, spare nocks and pins will always come in handy.
Plan how you'll keep focussed during the shoot – especially important if you like a bit of banter; not everyone speaks perfect English so think about how you'll keep yourself smiling.
Make the most of being somewhere new – go sightseeing if you can, hang out with friends and take some time out to unwind. It'll help you keep focussed back on the line.
Check your travel arrangements, especially airlines – some companies are a pain about transporting bows, so read through your travel docs and make sure everything is in order.
Think about how to beat the dreaded jetlag if you're travelling long haul - everyone is different, so if you can, think about what you can do to acclimatise as quickly as possible.
Bring a friend - travelling is dull when you're on your own; it's far more fun if your friends or family are with you so if you can, encourage them to join you! Surely, the more the merrier?
---
Mybo Origin Compound Bow New Price
January 24th, 2020

Yes, that's right, your eyes are NOT playing tricks on you. Our famous Mybo Origin compound bow has a new and very appealing price of just £500.
I know, IRRESISTIBLE, isn't it?
---
Samick - New Products Available Now
January 24th, 2020

We just received some new products from Samick and couldn't wait to share the with you all.
Samick Avante Stabiliser Set // See here ➜
Samick Extreme - Shaft Only // See here ➜
Samick Extreme Arrow Points // See here ➜